Welcome to CookingwithFire.com
Welcome to the home of Cooking with Fire. Feel free to browse our website to see the products we have to offer or read our newsletter to learn more about chiles and "food with attitude".
Back to northern California!
Ron and Mike have been dear friends for over fifty years. They met at the grocery store in Santa Clara that they were both working at while in high school and college. They share a rich and wonderful history together and have seen each other through much of life's journey.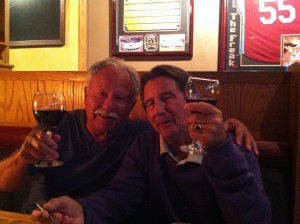 Ron and Mike basically see one another twice per year: on our way north and east to New York in May and then again on our way west and south in October. They rarely contact one another in between, but pick up exactly where they left off when they do see one another. As with all of Ron's friends and family, Mike has made me so welcome and I love hearing the stories of their shared past.
We spend as much time as possible with Mike when we're in Santa Clara: tennis, billiards, dinners at their favorite sports haunt, By-Th-Bucket Bar and Grill (www.btbbarandgrill.com) as we usually arrive in Santa Clara in time for the World Series finals, and shared meals at Ron's Mom's house. Mother Mary has adopted Mike as practically one of her own and Mike, as a bachelor, thoroughly appreciates her fabulous home cooking.
We spent Halloween night with Mike and his lovely new girlfriend, Debby. We met them in Los Gatos and had a great time walking down Main Street and Santa Cruz Avenue checking out the costumes. Both Mike and Debby were in costume, but Ron and I were disguised as tourists yet again! We ended up dancing and sharing some drinks and more than a few laughs at Number One Broadway, the Los Gatos place for live music (www.numberonebroadway.com). It was a great evening and we always enjoy spending time and sharing life with Mike – one of Ron's oldest and dearest friends.
Although I haven't finished telling our story about the trip to Cabo, I wanted to write about a fabulous recipe that I tried today (after walking to the top of the Pedregal) from the New York Times.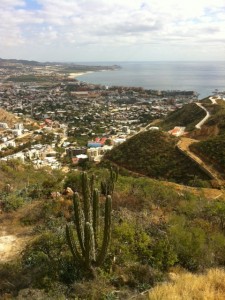 Here in Cabo, Ron and I have access to the freshest and most amazing ingredients – it really is a cook's delight. We have an organic market just half a block up the street from us that offers a gorgeous selection of fruits, vegetables, eggs, fish, chicken, goat milk dairy products, breads and take-out foods every Wednesday and Saturday. I noticed that one of the vendors, Juan Carlos, had some beautiful fresh sage the other day. I managed to track down some Italian sausage (it can be a bit of a challenge to find some ingredients down here, believe me!) and prepared this dish that we recently found in the New York Times archives:
http://www.nytimes.com/recipes/430/fettuccine-with-sausage-and-fried-sage-leaves.html
It was absolutely delicious! I served it with tender mixed lettuce and frisée, diced avocado, toasted pine nuts and a very simple vinaigrette of white wine vinegar with tarragon, olive oil, sea salt and fresh ground black pepper.
The wine I chose to serve with it was a 2009 McKinley Springs Cabernet Sauvignon from the Horse Heaven Hills of Prosser, Washington. The description on the bottle says:
Working with old vines and newer vines, this cab shows the earthy sage of the old vines and the smoky fruit of the new. Complemented by ripe raspberry, dark chocolate and a hint of spice.
Last year a lovely young couple, Davy and Diana, came into Pancho's and Ron and I enjoyed some wonderful conversation with them. They contacted us after their visit and said that they wanted us to try some of the wines that they are producing in their small town in Washington. We were delighted, of course, to try some of the wines that they recommended, and they sent them to friends in Palm Springs so we could bring them back when we were up for the Indian Wells Tennis Tournament in March.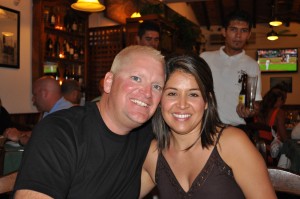 We never did have a chance to try a bottle before we left Cabo last season, so today was the day that we opened one of the four precious bottles that Davy and Diana sent to us. The wine was delicious and paired well with this dish. I selected the wine and worried that a cabernet might be too big for this cream based dish, but the Italian sausage and sage were delightful with this choice.
This is a dish that I would definitely serve to guests and look forward to enjoying again soon (thankfully there are leftovers from this lunch!). Buen provecho!
While Ron and I were in northern California, we spent a lovely afternoon in Santa Cruz and Capitola, places where Ron lived and played in the past. Ron's doctor is in Santa Cruz, so seeing him every year gives us a great excuse to come and play in these beautiful towns on the coast of Monterrey Bay.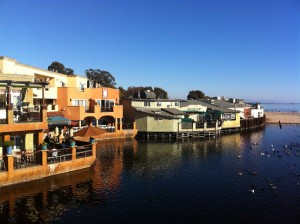 Capitola-by-the-Sea has a permanent population of less than 10,000 people, but is a very popular tourist town because of its large, sandy beach, trendy shops and restaurants on the shore that connect to the fishing wharf. One of the places we love to visit in this charming town is Pizza My Heart (http://www.pizzamyheart.com), now a successful chain of by-the-slice take-out pizza, which reminds us of the great "pie" we enjoy while in New York. We picked up a couple of great slices from their flagship location on the water and enjoyed them with a couple of great glasses of wine from the Cava Wine Bar (http://www.cavacapitola.com) that specializes in wines from boutique producers in the Santa Cruz Mountains.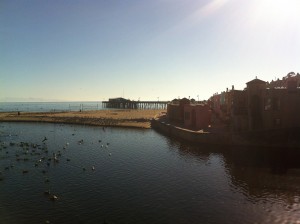 On our drive back to Santa Clara, we stopped so that Ron could show me one of the great iconic restaurants of the area, the Shadowbrook Restaurant (http://www.shadowbrook-capitola.com).   Originally opened in 1947 and with its red cable car access and terraced gardens flowing all the way down to Soquel Creek, this restaurant is famous for being one of the most romantic on the west coast and in all of America.   We were still full from our time in downtown Capitola, so look forward to bringing Ron's Mom here on our next trip to thank her for all of the amazing meals she prepares for us.  We're really looking forward to it.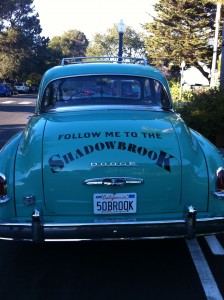 Our next stop was to stop to visit Ron's amazing mother who lives in northern California. At ninety-three years of age (and very soon to be ninety-four at the time of this writing), she is an absolute inspiration! She still lives in the family home of over sixty years, drives extremely well (by anyone's standards!) and takes great care of herself, her younger siblings and her friend and neighbor, also a Mary, who lives across the street.
Although her back is giving Mary some pain and trouble now and she uses a cane for stability if walking far, she is in amazingly good health. She attributes it to fueling her body all these years with great food, of which I'll talk more about shortly. Her mind is razor sharp and she has a better memory than both Ron and I combined. Her skin is beautiful and she looks twenty years younger than her actual age.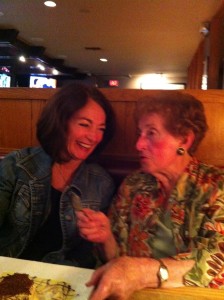 Mary drives a great distance to do her shopping at many different stores as she knows which markets carry the best lamb stew meat (which is a different butcher than the one who carries the best leg of lamb, by the way!) and which carry the best organic product (this is all that she buys and uses and is, assuredly, what has kept her and the people she loves in such good health). Her preparation of the food she buys and cooks is representative of the care she takes in all things – "anything worth doing is worth doing right".
Mary is Portuguesa with both her parents emigrating to the Silicon Valley area (when it was all still farming, orchards and dairy operations) before their children were born from the Azores, a group of nine volcanic islands situated in the North Atlantic Ocean and is located about 1,360 km west of Portugal, 1,510 km northwest of Morocco, and about 1,925 km southeast of Newfoundland. Ron and I visited the Azores and the west coast of Portugal two years ago and were very taken with the beauty, tradition and majesty of this part of the world.
Mary is a FABULOUS cook: the food she selects and prepares is her way of expressing love and you can taste the care she takes in every bite. Her food is simple, with very little spice, but her use of the very best ingredients and her preparation makes each meal memorable. Some of the dishes that we have savored and enjoyed in her home are French toast (made with Trader Joe's cracked wheat sour dough bread and cooked in olive oil – delicious!), rack of lamb, lamb stew, what Mary calls "boiled dinner" (corned beef with boiled onions, potatoes, carrots and cabbage), kale soup, chicken soup, vegetable soup, Portuguese omelet (made with onions, potatoes and parsley) and so many more! I'm starting to take notes and write down her recipes because one day she won't be here any longer and it would be a tragedy to lose her recipes and reminders of such a great lady. Here's Mary's recipe for her famous and delicious roast beef:
Start with a center chuck roast and ensure that there is lots of fat on it for tenderness. Cut slits into the meat and insert chunks of halved garlic cloves. Heat olive oil in an electric fry pan and sear all surfaces of the meat.
Remove roast from pan and deglaze with burgundy wine. Add 6 whole allspice cloves, two smashed cloves of garlic and two bay leaves, add roast and cover with sliced onion (use two onions and let some of the onion cook in the gravy). Cook at a low, steady simmer (~275 to 300F) for 1 ½ hours. Turn the roast, add more burgundy as required and continue cooking. Keep covered to keep all of the moisture in the pan and to add additional moisture to the gravy.
Remove roast, bay leaves, smashed garlic and allspice cloves. Add a tsp. or two of ketchup (only add more to taste) to cut the acid and thicken with arrowroot (buy at a health food store).
Serve with mashed potatoes, green peas or French style green beans and boiled carrots. Simple, but absolutely delicious!
Mary is very particular about how things are done and there is an absolute right way (hers!) and many wrong ways to do things. I had to laugh when I went to cut potatoes when Mary was once on the phone, only to realize that I had done it incorrectly (by Mary's standard!). It's that strength that has kept her so healthy and strong all these years – I can only hope to be enjoying life as she is in forty more years myself!
We stop to see Mary to and from New York and try to spend as much precious time with her as possible. Ron is her first-born child of six and she so loves to spoil him and he so loves to be spoiled by her. I'm just grateful to spend as much time with her as possible. We love her very much.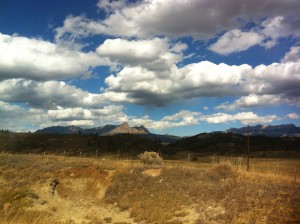 When Ron and I left Santa Fe, we drove though southern Colorado to reach Moab, Utah for the night. We wanted to get an early start so that we could explore as much of Utah's National Parks and natural beauty as possible before heading on to Nevada and ultimately California. Stretch and Mary had warned us that there were some bad storms in the area and we here a bit concerned about how the roads would be along the way.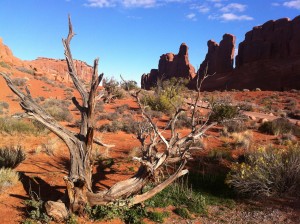 When we checked in to our motel for the night, we knew that we were in the right place.  On the wall was a picture entitled "Fire and Ice", which of course was the title of my first cookbook.  I treat coincidences and synchronicity like this as an inspired message to confirm that I'm on the right path.  My Mom thinks that I should write a book on the many situations like this that have and continue to happen in my life.  Maybe I'll just write about it here instead.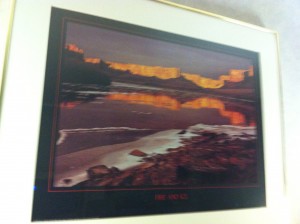 To beat the storms, we decided that we needed to get to California and over the tallest passes as quickly as possible, so only took a brief tour through Arches National Park. The formations and color of the rock in this area are truly spectacular – we were awed and amazed!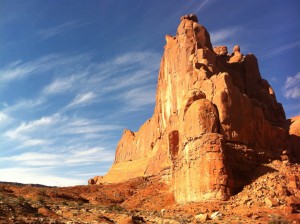 We hurried on to stay ahead of the weather and quickly passed through Ely, Nevada where we'd stopped at so many times before on our way east or west. We just nicely got about twenty miles west of Ely and it started to snow. Ron's not used to driving in snow and neither is the BMW, but I didn't think it was anything to be concerned with initially (being an optimistic Canadian who has always dealt with snow). We continued west and within fifteen more miles, the snow became a whiteout and we definitely decided to head back to Ely for the night.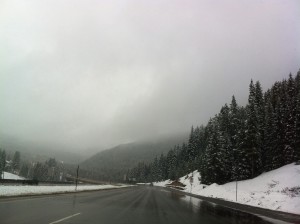 We drove through Alpine, Nevada and had breakfast at one of our favorite little diners the next day. They'd endured storms all the day and night before and had a serious amount of snow to contend with – about eighteen inches. We were so glad that we'd headed back to Ely the night before – we never would have made it over the high summits.